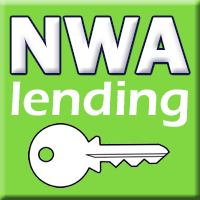 If you have done your research the safest and most secure loan is a fixed rate mortgage. Ask NwaLending.com how to lock in a rate that won't come with rate fluctuation surprises. At NwaLending.com, we offer competitive fixed rate mortgages. The most popular fixed rates are 15-year loans and 30-year loans, but in some cases we can get creative to help you with your individual mortgage needs. Have you ever heard of a 27 year fixed rate mortgage. We have them. Lock your loan with confidence and call NwaLending.com.
Helping You Through the Process
When you call NwaLending.com, we evaluate your financial status to determine which fixed rate mortgage loan that works best for you. The goal is to get you the lowest rate available, then exceed your expectations with superior customer service.
Your home is certainly a large investment, so this isn't the time to take chances with your mortgage. Contact NwaLening.com to lock in the perfect fixed rate loan.
NwaLending
2829 E Hyland Park Rd
Fayetteville AR
72701